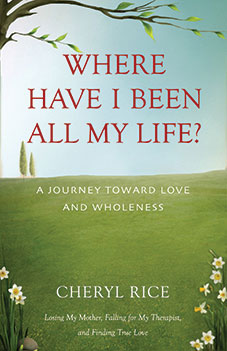 (She Writes Press)
Where Have I Been All My Life?
A Journey Toward Love and Wholeness
Where Have I Been All My Life? is the quintessential read for recovering good girls everywhere. It is a compelling memoir recounting Cheryl Rice's journey from grief and a profound feeling of unworthiness, to wholeness and true love.
Imagine losing your mother, who also happens to be your best friend, and being plunged into unprecedented sorrow. Imagine that in seeking solace you begin therapy only to find yourself falling desperately in love with your therapist. And then imagine a series of comical yet powerful happenings that spring forth and challenge your deeply held notions about love, longing and the meaning of home. Cheryl's raw and poignant story will touch and inspire anyone who has been raised to be a pleaser: to rely on others for her sense of self-worth, and anyone who has used longing as a substitute for real love.
If you're looking for a "me-too" book instead of a "how-to" book, then Cheryl's incredibly powerful memoir is for you.
Order Cheryl's Book

What People Are Saying About the Book