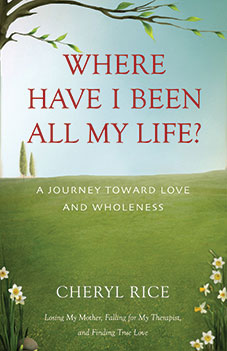 Dear Book,
After carrying the dream of you inside of me for what feels like forever, we are a scant ten weeks shy of your official launch into the world. While I'm not quite ready to say goodbye, I am ready and eager to thank you, for no matter what happens after you leave the nest, you have already given me more than I can express.
Since I don't want my gratitude to get lost in the frenzy of your upcoming birthday party, let me take this moment to appreciate all you have given me.
Because of you, as a first-time author, I have learned how to ask and receive help in ways I never thought possible. I have reached out for assistance from wonderful people who have helped us both grow. I have even contacted complete strangers—high-profile and highly accomplished people I wouldn't have dreamed of connecting with, let alone asking favors from, if not for you. And their generosity has been humbling.
If not for you I would have missed knowing the sound of my own voice reflected back to me on the page. Your stalwart companionship allowed me to discover, cultivate, and share stories I didn't even know were mine to tell until we met. In some ways, you introduced me to me.
If it weren't for you I'd still be in the Dark Ages, thinking social media consisted of movie night with friends. But now I'm tweeting and Facebooking and blogging (oh my!). People I don't even know are following me on Twitter for reasons I don't understand but am tickled by nonetheless. And if not for you I wouldn't have been introduced to a new community of writers near and far who inspire and enliven me with their own stories and openheartedness.
You have revived my faith by having faith in me. You stayed present and patient even on days when I stood you up entirely or left you for an hour of bad TV, and on some days, three hours of great TV (Nurse Jackie anyone?).  Even when I felt completely lost, having no idea where my time with you would take me; even when my paying work was drying up and I questioned my sanity for showing up; and even when I lost sight of who, what and why I was staying with you—you remained faithful. Your confidence in me—in us—never wavered. That alone is astonishing.
Lastly, at least for now, I thank you for calling me forth to bring my unmasked self not just into my pages as a blossoming writer, but into my intimate relationships as a blossoming wife, mother, daughter, and friend. I am showing up with a depth of authenticity I had spent years avoiding. I am bolder now. I am exposed now. I am real now and there's no way back.
And even if there was a path back—I wouldn't take it.
Love,
Cheryl
Dear Reader, what experience are you grateful for having?