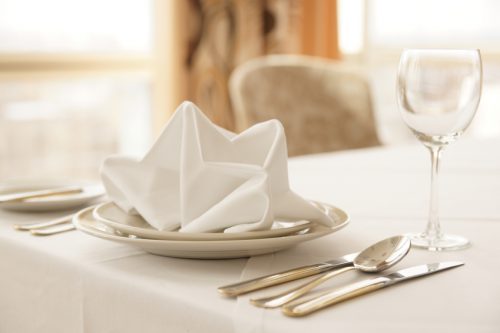 This past week, while vacationing at the beach, I had a fascinating conversation—okay, more like ruckus debate—with my husband and 17-year-old stepdaughter, Barclay.
On our way back from a lovely dinner at a small Greek restaurant, Barclay asked if we had seen the middle-aged woman dining alone at a table by the window.
Yes, I replied. I had noticed.
Before I could ask what Barclay thought about it, she shared how startling it was to see a woman eating all by herself in public and presumably on purpose. She was sure the woman must have been embarrassed, sad, and lonely. I was about to jump in with another perspective when my husband, still scarred by solo dinners at the bar of his local tavern when he was newly divorced, chimed in with, "Yeah – she must feel like a real loser." At which point I could hold back no more and indignantly proclaimed, "Well then honey – you married yourself a real loser because I have dined out alone plenty of times. In fact, it's quite empowering."
Hearing this, Barclay, more incredulous than ever, roared, "Empowering? It's awful. I could never do that!"
"Well it's really not as bad as it sounds," I assured her. "Maybe the woman was taking a break from cooking. Maybe she had a craving for hummus and her husband was allergic. Maybe she was a local restaurant reviewer doing her job. Just because she was alone doesn't mean she was lonely. I wouldn't want to dine alone every night, but now and then it can be lovely way to treat yourself—kind of like going to the movies alone."
"Oh my God! You've gone to a movie by yourself too?" "Yes," I told her, "plenty of times."
Barclay looked at me like I was a mummified alien.
I realize that when I was 17 most of my discretionary time, okay, most of my time—was spent trying to fit in, to find my tribe, to be chosen for the prom or the student council. Standing out and sitting alone was tantamount to death. I may have still felt sad and lonely even in a crowd (and often did), but at least my aloneness was hidden. Still, I was crestfallen to learn Barclay assumed the woman was a sad and lonely loser just because she was dining alone. Whereas I assumed, or at least held the possibility, that she was a courageous, hungry woman comfortable enough in her own skin to take herself out for a meal. Someone to admire not admonish.
My wish for Barclay is that one day she will have the power and confidence to take her beautiful, special self out for a delicious meal – and not just a McDonald's Happy Meal, but a "I'll-start-with-the-Caesar-salad-and-end-with-the-chocolate-mousse" meal. And I hope she savors every morsel, enjoys the flavor of her own thoughts as much as the chatter from the patrons at the table next to her, and that she leave feeling nourished as much from the sweetness of her own company as from the sweetness of the chocolate mousse.
Food for thought:
What do you think when you see a woman dining alone?
Have you ever dined alone? If so, how was it for you?
If you haven't dined alone, and are up for a challenge, give it a try. Then let me know how it goes.