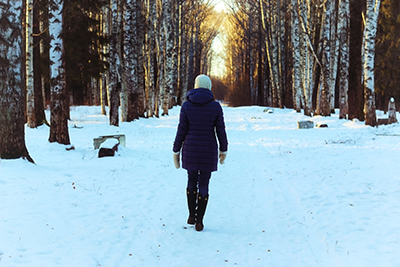 Ever notice that most of us have no trouble honoring commitments we make to others, but often fail to honor commitments we make to ourselves?
I sure do. In fact, one of the biggest reasons my clients hire me is to help them stay accountable to their goals. For some reason, just telling a person who cares about you, what you will do, increases the likelihood you will do it.
I experienced this myself this past weekend.
I love walking outside. It nourishes me emotionally, as well as physically. But I hate cold weather. And for me, anything below 70-degrees is brisk. So when the temperature drops below 45-degrees, I head for Planet Fitness, even though I never achieve the psychic benefits that walking in nature provides.
Until now.
Last week, after complaining to a friend about my aversion to winter walking one too many times, she made me promise that I would go for a short walk outside over the weekend. Little did I know when I made the promise that the temperature on walk day would drop to a bone chilling 9 degrees! And yet, because I promised my friend I would walk, I put on my long underwear, double mittens, hat, scarf and neck warmer and walked (or waddled!) outside with my cold-loving dog, Gracie, for 20-minutes. Yes, it was chilly, but I was fine. Better than fine, actually, I was invigorated. And since no one besides Gracie was around to witness my arctic achievement, I took my first selfie to send to my friend!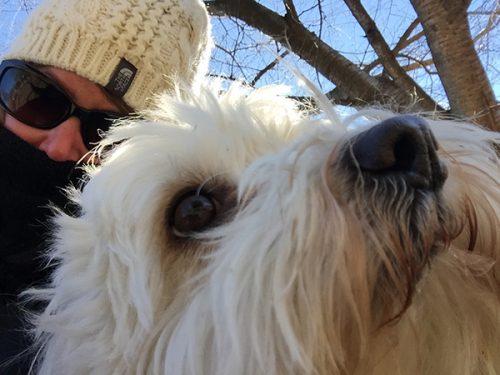 And here's the thing. I'm quite certain that if I had not promised to walk outside, I would have stayed in my comfy yoga pants and fuzzy sweater and missed the moment altogether.
As my positive psychology teacher and friend, Louis Alloro says, "It may not be easy, but believing it's hard doesn't make it easier."
Now it's your turn:
Think of a to-do you've been putting off.
Pick someone who cares about you. (Pick Me! Pick Me!)
Call, email, or text that person and promise them you will do your activity by x date.
Then let the magic begin.
So dear one, tell me:
What helps you stay accountable to your goals?